Your crop is only as strong as its core. It's essential to build a strong foundation early
with available nutrition in the soil. Terra Core™ utilizes a specialized form of PAC® technology
to provide crops with readily available phosphorus, nitrogen and zinc, right when they need it most.
Simple, plant-derived carbohydrates chelate nutrients to deliver easily metabolized nutrition to the crop.
Contains plant-available phosphorus, primarily comprised of orthophosphate.
Exceptional tank-mix compatibility compared to competitors, even in hard water.
Low salt index for superior crop safety.
Designed specifically for soil application and drip systems.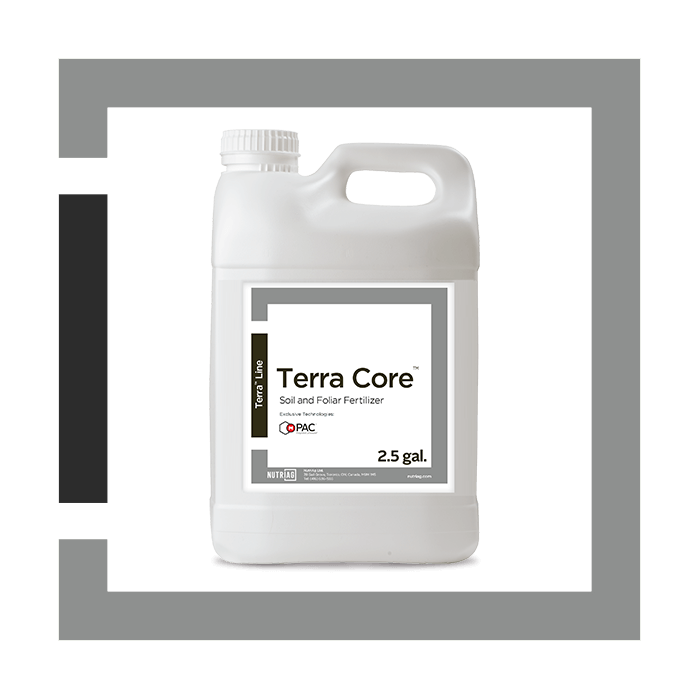 Nitrogen (N)                        7.0%
Phosphorus (P2O5)            21.0% 
Zinc (Zn)                              0.2%
Foliar: 1-4 gal/ac
Soil applications: 1-10 gal/ac
Fertigation: 1-2 gal/ac
We looked at time dependent stability of Terra Core versus a competitor at various use rates: 1:100, 1:200, 1:300. After mixing the jars were left undisturbed and were monitored every 15 minutes.
After 45 minutes, the competitor began to fall out of solution at the 1:300 use rate while Terra Core remained in solution.
Terra Core in tap water 45 minutes after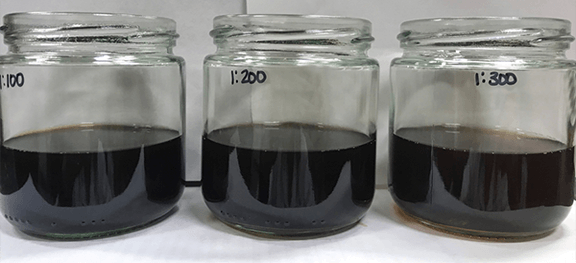 Competitor in tap water 45 minutes after mixing.