FertCare® Line is a liquid, chelated carbohydrate,
micronutrient coating for granular fertilizer.
Activated by our exclusive PolyAldoCarbosate® technology.
PAC is NutriAg's proprietary, natural plant-derived chelation technology usedin a wide variety of products. To successfully foliar feed, fertilizers must be true solutions. They are often in the form of salts or chelates. Salts are not ideal because of the potential to burn the crop. Using chelates to form true solutions is a more effective and safe way to foliar feed. Chelates can come from many sources and they differ in their efficiency for foliar application. Simple, plant-derived carbohydrates chelate nutrients to deliver easily metabolized nutrition to the crop. 
View All FertiCare Line Products
| Product | Analysis | Technology |
| --- | --- | --- |
| | 6.0% Zn, 2.0% Mn, 0.5% B, 0.05% Mo, 0.1% IBA | PAC, PGE |
| | 8.1% B | PAC |
| | 4.2% Cu | PAC |
| | 4.0% Fe | PAC |
| | 5.5% Mn, 0.45% B, 0.5% Mo | PAC |
| | 10.0% Zn, 0.5% B | PAC |
PAC technology uses natural, plant-derived carbohydrates chelate essential nutrients to enhance uptake and optimize usage by the plant.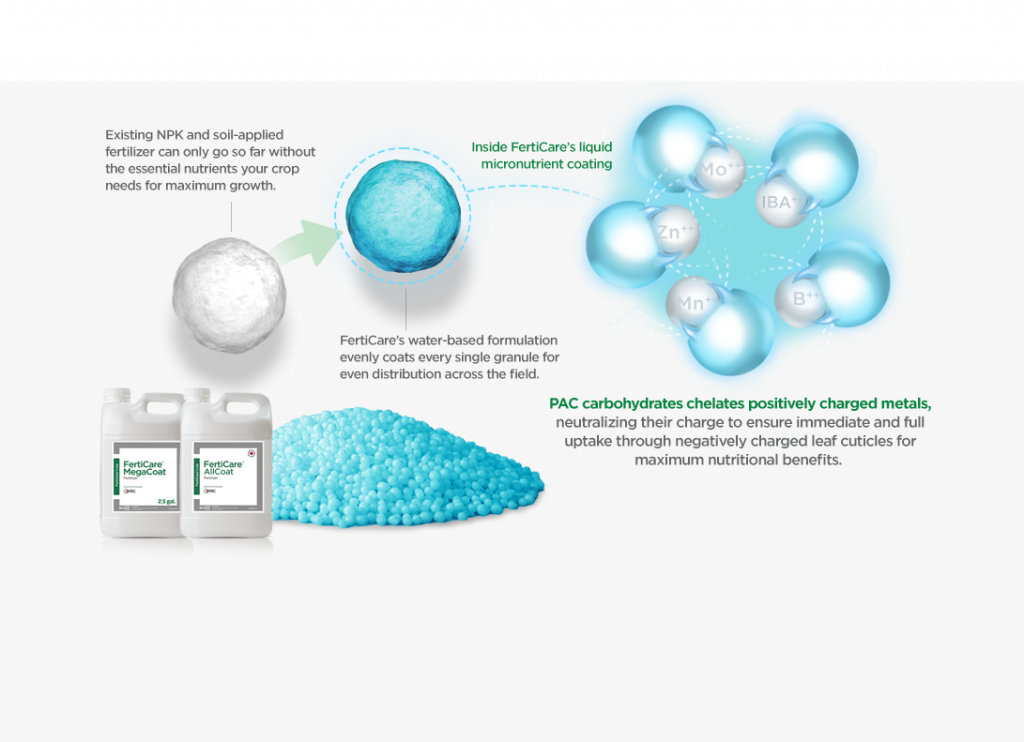 Naturally chelated with PAC™ technology, ensuring efficient and immediate uptake and metabolism of nutrients for maximum benefits. maximum nutritional benefits.
Improve ROI and achieve higher yields with lower nutrient application rates compared to other coatings.
Built-in micronutrient package designed to enhance the performance of existing NPK, and soil-applied fertilizers.
Convenient and easy-to-use water-based formulation eliminates dusting and micronutrient loss during application.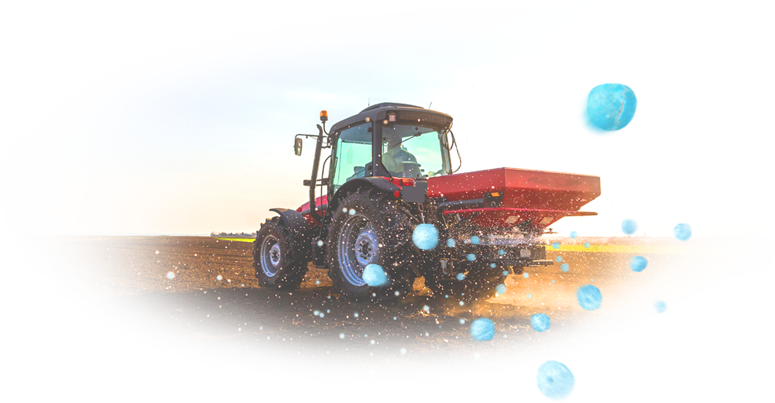 Soil tests that call for pounds of micronutrients are often not properly calibrated and are seldom correlated to yield. When they are linked to crop responses, the recommendations are coming from fields where inefficient granular micronutrient sources were used, which inflates the soil test recommendations. These inefficiencies come from both the inconsistent placement of granular micronutrients across a field, and because sources with limited availability (low solubility) are often used (e.g. oxides and oxysulfates).
FertiCare micronutrient coatings have increased efficiency
because they coat the entire blend, and are chelated with PAC-technology to increase
their availability beyond that of standard micronutrient materials.